Approches for exam Preparation
PURE CAT and XAT Applicant
Students with prior aptitude who can learn fast. This is mainly for students with the pre-requisite knowledge of the basics and would like to focus on more advanced concepts of quants, verbal and LR/DI. So, we provide fast-paced classes. One-to-one classes are also organised as per the students' needs and requirements. 
Those who wish to maximise their options of securing a top business school with a focus on competitive exams other than CAT such as SNAP, NMAT, CMAT, IIFT, etc. Classes are designed to optimise results and focus on the concepts assessed in the respective exams.
HR aspirants who wish to secure premium colleges by focusing on competitive exams like TISSNET and XAT, without getting exhausted by the extensive syllabus of CAT. Classes are designed to cover the main concepts while also focusing on the basics.
MBA for Development Sector
Professionals realising the importance and relevance of management in the development sector. These students wish to combine the best of both worlds and transform themselves into management experts who can lead the change. With personalised mentoring and counselling, students are prepared for colleges like IRMA and IIM-L, focusing on rural management and development courses.
Three Cyclic preparation
Initially, individual classes and supports are provided to cover the basics. After completion of basic concepts, classes for advanced level CAT/XAT/IIFT level questions are solved. This three cyclic process ensures 100% learning outcomes as we never go to level-2 until and unless you finish level one exercise.
Context-based Vocab/RC -We let you do context based Vocab/RC preparation through a comprehensive list of topics that are important through exam point of view, make comprehensions topic familiar and develops your verbal ability for easy, speedy and accurate understanding 
Viva-Voce testing Methodology– Apart from mocks, we conduct frequent viva based test to ensure a better understanding of a particular concept. This also helps us kno stands and where he exactly needs to work-on for improving.
Open Doubt Clearing Sessions(with revisions) -This is our most interesting and unique feature, and we have matured this innovation a lot. The moment you got few doubts while solving any sheet you just demand for a doubt class. We shall keep it next day with your convenient timings but this class shall be open for all. Similarly all doubt classes shall be open for all. This ensures revision for all and maintains a healthy competition among yourselves too. If a teacher clears the doubt of another student, your revision seems to happen and even many a times you get to learn new things, or a new approach or short cuts.
MBA Entrance examinationS
Smarg education provides a classroom/online coaching for MBA entrance(CAT, XAT etc. ) and
TISS
exams preparation by customizing, tailoring & a comprehensively score growing methodology through which our past students have been able to achieve percentile beyond their potential and getting admission in India's premier B- Schools.
CAT Coaching 

CAT is not an exam where you need to be a pro in academics. "Right Decisioning", "Time Management" and "Basic Knowledge of the subjects with proper implementation"  can do the job. That's where we focus on. Remember it's an Aptitude Test it does not require lots of mathematics but solving problems without doing mathematics. (If it would have been about mathematics then why would they have asked all graduates to apply?)
Having said that , One still need a very basic understanding of daily life maths and a little in algebra and geometry which we don't encounter very often. But the good news is our curricula have modified in a way that any students with mathematical background can learn these topics as the stories and map (Not believing it, just attend any lecture at SMARG). Now we don't claim to get you 100 percentile but we teach exactly for that without letting you work too much (But It shall be hard and smart). We teach just enough to score a 100 percentile, and provide you just enough content to practice for it.
XAT (Because sometimes you are more eligible for XAT than CAT)

Conducted by XLRI, it is another entrance exam which is a gateway of some premium colleges( Xavier's, S.P Jain, Great Lakes etc.) 
Before Explaining further you must know the structural difference of CAT and XAT. Where CAT has almost equal weightage from all sections like Quant, DI/LR and Verbal, XAT has different structure at all by giving one third weight to entire Quant DI and LR. So the one third of the paper comes from Decision making.
Now if you see smartly the decision making part of XAT makes it easy to crack for people who have work experience and good comprehension and exposure for humanities.
IIFT 

Indian Institute Of Foreign Trade offers two year MBA in International Business(IB). IIFT has three campus – Delhi, Kolkata and Kozhikode
consists of five sections- GK, Aptitude, Logical Reasoning, Data Interpretation, RC/Vocab and duration of exam is two hours. Candidate h cut- offs and overall cutoff to get a call from IIFT. We plan classes to cover all these sections. 
This complete preparation also covers the entire syllabus and interviews preparation of other exams like CMAT, NMAT , SNAP and all other competitive examinations.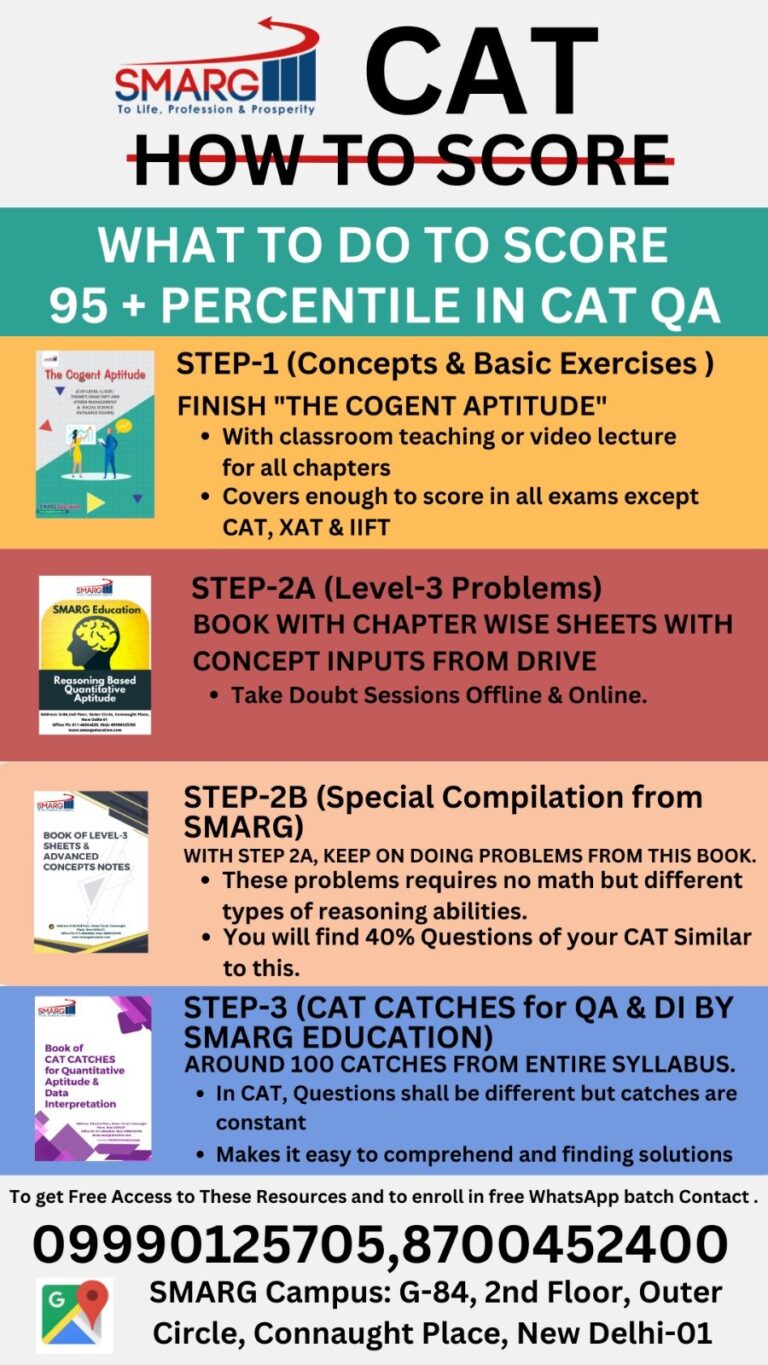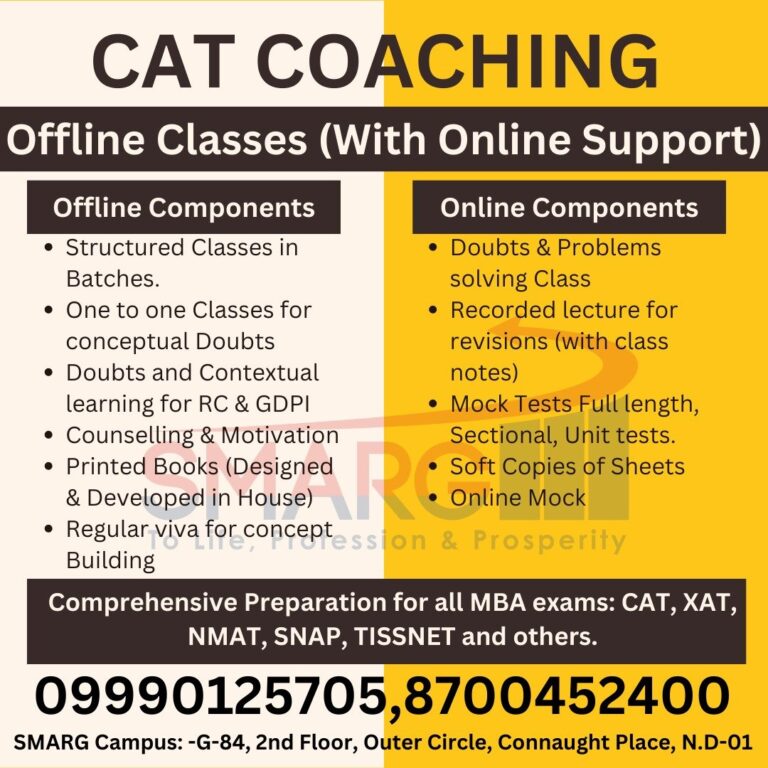 BASIC Program
(CAT & MBA)

Key Features
• VIDEOS
1. Multiple videos of all the Concepts
(Hindi-English and English)
2. Problem Solving Videos
3. Counselling Videos
4. Daily Updates of Videos as per the classes
• Content (Soft & Paperback)
1. Sheets and Lecture Notes
2. Practice Books
3. Reference Readings
4. Past Year Papers
• Mocks
1. Full Length Mocks and Sectional Tests
2. Mock Discussion Videos
• *3 − 4 Weekly Live Doubt Classes
• *Orientation and Personal Guidance for Preparation
COMPLETE Program
(CAT & MBA with WAT-PI
Preparation)
Key Features
• VIDEOS
1) Multiple videos of all the Concepts
(Hindi-English and English)
2) Problem Solving Videos
3) Counselling Videos
4) Daily Updates of Videos as per the classes
• Content (Soft & Paperback)
1) Sheets and Lecture Notes
2) Practice Books
3) Reference Readings
4) Past Year Papers
• Mocks
1) Full Length Mocks and Sectional Tests
2) Mock Discussion Videos
• *3 − 4 Weekly Live Doubt Classes
• *Orientation and Personal Guidance for
Preparation
• SOP guidance
• Personalized preparation for WAT
• Live Mock Interviews
COMPREHENSIVE Program
(CAT/MBA & TISS/All PG Social Science with WAT/PAT – PI Preparation)
Key Features
• VIDEOS
1. Multiple videos of all the Concepts (Hindi-English and English)
2. Problem Solving Videos
3. Counselling Videos
4. Daily Updates of Videos as per the classes
• Content (Soft & Paperback)
1. Sheets and Lecture Notes
2. Practice Books
3. Reference Readings
4. Past Year Papers
• TISSNET Guide Book
• Mocks
1. Full Length Mocks and Sectional Tests
2. Mock Discussion Videos
• Interview Preparation & Mock Interview Videos
• *3 − 4 Weekly Live Doubt Classes
• *Orientation and Personal Guidance for Preparation
• Customized College & Courses Guidance
• Personalized SOP/DAF writing & Pitch Preparation
• Personalized preparation for WAT
• Live Mock Interviews