TISSNET and PG Humanities Programs
TISSNET and PG Humanities Programs
We provide comprehensive preparation module for TISS with guaranteed result. In past two years of this program we have sent more than 80 of our students to different campuses of TISS. We provide a separate course for the preparation of TISSNET, PIT(Personal Interview Test) and Personal Interview. Our pedagogy ensures you pass these phase with ease and especially context based comprehension and fun aptitude studies help a lot to achieve this feat. This complete preparation also covers the preparation of All Premier Humanities PG Courses at NLU, IIT and others.
Colleges and Courses:

Tata Institute of Social Science– Total of 52 PG courses in 5 campuses (Mumbai, Hyderabad, Tuljapur, Guwahati Campus) And Banyan Campus (Chennai).
Management and Entrepreneurial (HR&LR, ODCL, SE and SIE),
All Social Work Courses (LSE, CODP, Women Studies, Public Health and Others),
Policy and Regulatory (PPG, DPPP, Water Policy, Urban Policy, Regulatory Studies and Others)
Health Sciences (MHA (Hospital Administration and Health Administration),
MPH (Social Epidemiology, Public Health Policy and Finance))
Media and Culture, Rural Development Education.
(* Every Year we conduct a complete series of classes to understand courses, their nature, prospects and suggested prerequisite of all courses)
Azim Premji University Bangalore– PG Courses in Public Policy, Development Studies and Education
IIT Mumbai & NLSIU , Bangalore– Masters in Public Policy
IIT Guwahati , Mandi and Hyderabad– MA in Development Studies
IIT Gandhinagar– MA in Society and Culture
IRMA – PGD in Rural Management And Others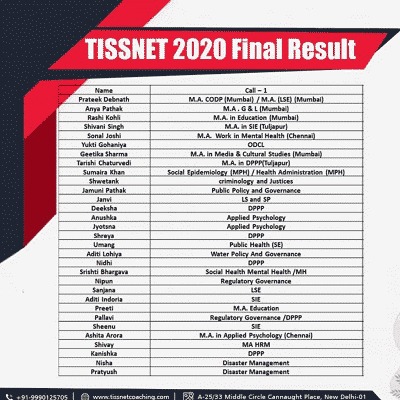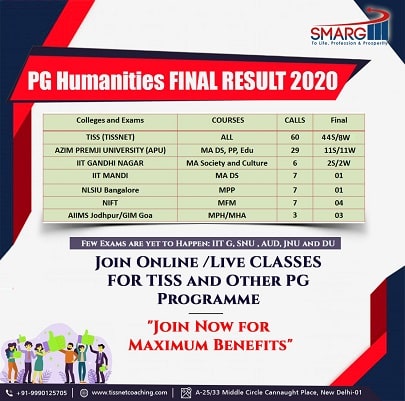 Phase-I : Comprehensive Aptitude Test Preparation for MCQ Test for TISSNET/TISSMAT, APU Entrance Examination, PAT for MPP NLSIU, XAT 
Phase-II: Course Counselling for selecting choices for TISS and courses from other Campuses
Phase-III: Subjective Test Preparation and PI
(Note: a. Few special modules are also included for Tests like IRMAT, MICAT for all their phases.
We also provide complete one to one guidance for DAF for tiss and other written application process (Comprises of SOP, Letter of Intent and subjective debate based questions) for NLUs and IITs

We also provide guidance for all fellowship programs like YIF Ashoka University, Gandhi Fellowship, SBI Fellowship and many others)
WHAT fields our students aspire for
Applies TISS for mainly social work based courses like CODP, LSE and others. These students also apply for other major social work programs like Madras School of Social Works and APU
Applies for Development Studies courses at TISS and also Applies for MA Development Studies programs at IIT Mandi, IIT Guwahati , APU and Similar pioneer Programs.
They look for Public Policy based courses at TISS and also targets Public Policy Programs at NLU , AUD, IIT Mumbai
Students who appears TISS for a very specific target to go in to Psychology and mental health programs
Health and Hospital Management
Students who are specially Interested in Health school of TISS and can also appears for CMAT and XAT for Health management Programs in GIM
These students appear for Media and Culture Program of TISS and also try for MICA, IIMC, JMI  and other Communication base PG programs.
like "Criminology and Justice" , "Disaster Management" , "Social Entrepreneurship"  and others
Know More With Slides & Videos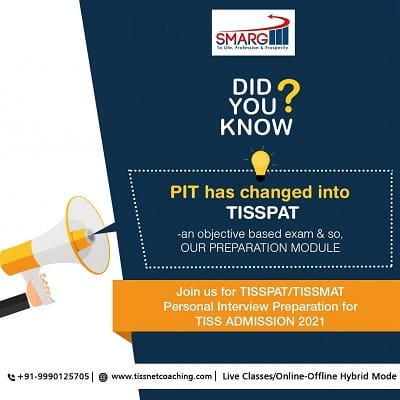 Personal Interview Test(PIT) & Personal Interview(PI) preparation requires special efforts with thorough understanding of the courses you are applying, why are you applying for that course and how it will help you grow as a person.

Join us for the specialised preparation of all the individual courses at TISS!
.
.
Call 09990125725 for more information